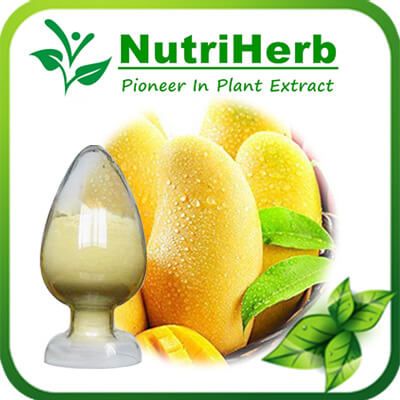 Mangiferin
Mangiferin has been isolated from the leaves of Mangifera indica L. Showing antioxidative, antiviral, and anticancer effect. An in vivo microdialysis sampling method coupled to microbore high-performance liquid chromatography was employed for continuous monitoring of free mangiferin in rat blood.
Features
Spes: 85%,90%,95%
CAS : 4773-96-0
Plant origin :  Mangifera indica L.
Grade:  Food/Medicine
Appearance :Pale yellow powder
Product Name:Mangiferin
Spe: 85%,90%,95%
CAS : 4773-96-0
Plant origin :  Mangifera indica L.
Grade:  Food/Medicine
Appearance :Pale yellow powder
Molecular formula:C19H18O11
Molecular weight :422.33
Botanical Source: Mangifera indica L., Anemarrhena asphodeloides Bge., Belamcanda chinensis(L.)DC.
1. Mangiferin Powder can be treat inflammatory bowel disease;
2. Mangiferin Powder can clear away heat and toxic material, dispeling heat from blood to stop bleeding
3. Mangiferin Powder can lower blood sugar and cholesterin content, lose weight
4. Mangiferin Powder  has the function of anti-bacterial, anti-epithyte, calming, and curing sugar diabets.
5.Mangiferin has effect of hepatinica and choleretic, and is used to therapy hepatitis. Anti-inflammatory, antivirotic, central nervous system inhibit function and immunologic suppression. Mangiferin has curative effect on chronic bronchitis. Mangiferin has cytotoxicity effect on hepatocellular carcinoma ce1l, and may induce apoptosis. Mangiferin has the effect of antioxidation and delaying caducity.
1) Flavors in seasoning packets for banana puree powder keep the original flavors
2) Colors in ice cream, cakes for beautiful pink color of banana puree powder
3) Also can be applied in drink mix, infant food, dairy product, bakery, candy and others Product advantages
1) Good fluidity and dispersible in water
2) Long preservative time than fresh fruit
3) Easy for transportation due to powder form
4) Made from the seasonal fruit, ensure the freshness and nutrition.
Product Name:
Mangiferin
Used Part:
Leaf
Items
Specification
Appearance
Light Yellow Powder
Particle Size
100% through 80 Mesh
Loss on Drying
< 5.0%
Heavy Metals
< 20ppm
Arsenic(As)
< 2ppm
Lead(Pb)
< 2ppm
Total Plate Count
< 1,000cfu/G
Yeast & Mold
< 100cfu/G
E.Coli.
Negative
Salmonella
Negative
Delivery:Sea/Air Shipping & International Express
Shipping Time: 2-3 working days after payment
Package: 1-5kg/Aluminum foil bag, size: 22cm (Width)*32cm (Length)
15-25kg/Drum, size: 38cm (Diameter)*50cm (Height)
Storage: Kept away from strong light and heat.
Shelf Life: 24 months