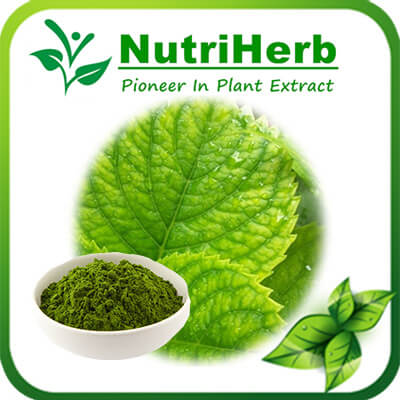 Chlorophyll
Chlorophyll is a natural green pigment which is obtained through extraction and refining processes from natural green plants or silkworm feces . Sodium copper chlorophyllin is stabilized chlorophyll
Features
[CAS]  65963-40-8
[Source]  Spinacia oleracea Mill.
Spinach extract specification:
1, Chorophyll liquid 10% 14% HPLC
2, Sodium copper chlorophyllin 10~99% HPLC, USP standard
[Product]  Sodium copper chlorophyll , Chlorophyllin, Chlorophyll
[CAS]  65963-40-8
[Source]  Spinacia oleracea Mill.
Spinach extract specification:
1, Chorophyll liquid 10% 14% HPLC
2, Sodium copper chlorophyllin 10~99% HPLC, USP standard
1. It has superior coloring strength and good stabilization in neutral and alkali solutions.
2. It has strong antibacterial action, which makes it useful in surgeries, ulcerative carcinoma, acute rhinitis and rhinosinusitis, chronic ear infections, inflammations, etc.
3. It clears up odors of putrefaction effectively. It's is the active ingredient in a number of internally-taken preparations intended to reduce odors associated with incontinence, colostomies and similar procedures, as well as body odor in general.
4. Cancer prevention.
5. Liver Protection, fastening healing of stomach ulcers and intestine ulcers.
1.Pharmaceutical stuff,chlorophyll powder can be used for liver protection and other disease.
2.Food pigment,sodium copper chlorophyllin is widely used in cakes, beverages, sweets,ice-cream,etc.
3.Daily-use chemical raw material, sodium copper chlorophyllin is used in green toothpaste and cosmetics.
Appearance
Dark green powder
Complies
Sodium copper chlorophyllin
100%min
103.1%
E1%1%1cm405nm  Absorptance
≥568
585.6
Extinction Ratio
3.0-3.9
3.37
Other components:
Total Copper  %
≥4.25
4.94
Chelated copper %
≥4.0
4.90
Nitrogen determination %
≥4.0
4.70
Sodium %
5.0%-7.0% on dried base
5.80
Impurities:
Limit of ionic copper %
≤0.25% on dried base
0.04
Residue on ignition %
≤30 on dried base
25.5
Arsenic
≤3.0ppm
0.1ppm
Lead
≤5.0ppm
1.2ppm
Mercury
≤1ppm
0.01ppm
Cadmium
≤1.0ppm
0.01ppm
Iron %
≤0.5
0.21
Other tests:
PH  (1% solution)
9.5-10.7(in a solution 1 in100)
10.51
Loss Drying   %
≤5.0(at 105°C for 2 hours)
3.05
Test for fluorescence
No fluorescence is visible
Complies
Microbiological Tests:
Total Plate Count cfu/g
≤1000
0
Yeast cfu/g
≤100
0
Mold cfu/g
≤100
17
Salmonella
Not detected in 25g
Negative
E. Coli
Not detected in 25g
Negative
Delivery:Sea/Air Shipping & International Express
Shipping Time: 2-3 working days after payment
Package: 1-5kg/Aluminum foil bag, size: 22cm (Width)*32cm (Length)
15-25kg/Drum, size: 38cm (Diameter)*50cm (Height)
Storage: Kept away from strong light and heat.
Shelf Life: 24 months