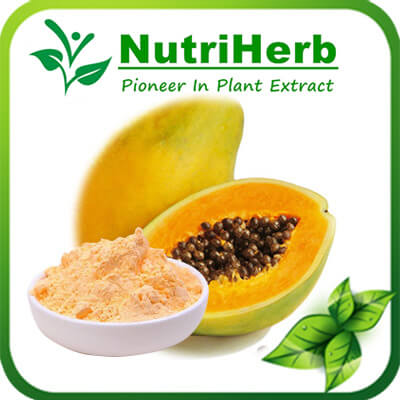 Papaya Powder
Papaya fruit is a rich source of nutrients such as provitamin A carotenoids, vitamin C, B vitamins, dietary minerals and dietary fibre. Papaya skin, pulp and seeds also contain a variety of phytochemicals, including natural phenols.
Features
Botanical Name: Chaenomeles sinensis Koehne
Part Used: Fruit
Active Ingredient: Papain
Appearance: Light yellow powder
Product Name: Papaya Powder
Botanical Name: Chaenomeles sinensis Koehne
Part Used: Fruit
Active Ingredient: Papain
Appearance: Light yellow powder
1. Improve the growth, to improve appetite and feed intake, to suppress the microorganism
efficiently, to instead the antibiotics medicine completely, to help farm to produce the natural grown animal products without antibiotics.
2. Improve the beneficial bacterium of intestinal tract, to decrease the illness of the enteritis and laxness, increase the feed conversion rate.
3.Improve the pig body measurement, increase the rump meat and to improve the longissimus marbling of the backside.
Papaya powder is made of pure natural health food, papaya fruit contains papain "have promote digest and anti-aging effect to human body, contain rich papaya enzyme in papaya powder, lemon enzyme, carotene, protein, vitamin C, B and minerals such as calcium, phosphorus, etc., have breast enhancement, regulate endocrine, prevention and treatment of hypertension, glomerulonephritis, constipation, digestion and cure stomach trouble, the effect such as beauty, skin care, raise colour, to the human body have promote metabolism and anti-aging effect.
Analysis
Specification
Results
Assay
100% Fruit Powder
Complies
Physical & Chemical Control
Identification
Positive
Complies
Appearance
Yellow fine powder
Complies
Odor
Characteristic
Complies
Mesh Size
80 mesh
Complies
Loss On Drying
≤5.0%
2.27%
Methanol
≤5.0%
0.024%
Ethanol
≤5.0%
0.150%
Residue on Ignition
≤3.0%
1.05%
Heavy Metal Testing
Heavy Metals
<20ppm
Complies
As
<2ppm
Complies
LEAD(Pb)
< 0.5PPM
0.22 ppm
MERCURY(Hg)
Not dectect
Complies
CADMIUM
< 1 PPM
0.25 ppm
COPPER
< 1 PPM
0.32 ppm
ARSENIC
< 1 PPM
0.11 ppm
Microbiological
Total Plate Count
<1000/gMax
Complies
Staphylococcus Aurenus
Not Detected
Negative
Pseudomonas
Not Detected
Negative
Yeast & Mold
<100/gMax
Complies
Salmonella
Negative
Negative
E. Coli
Negative
Negative
Delivery:Sea/Air Shipping & International Express
Shipping Time: 2-3 working days after payment
Package: 1-5kg/Aluminum foil bag, size: 22cm (Width)*32cm (Length)
15-25kg/Drum, size: 38cm (Diameter)*50cm (Height)
Storage: Kept away from strong light and heat.
Shelf Life: 24 months