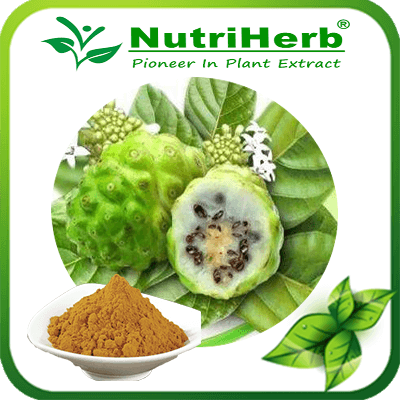 Noni Powder
Noni Fruit Powder is 100% natural and is a valuable source of antioxidants, vitamins and minerals to boost energy and support a healthy immune system. A great addition to your smoothie or yogurt recipes.
Features
Part: Fruit
Specs: 80Mesh-100Mesh
Odor: Characteristic
Product Name: Noni Juice Powder
Part: Fruit
Specs: 80Mesh-100Mesh
Odor: Characteristic
(1)Lower High Blood Pressure;
(2)Reduce Arthritis Symptoms/Pain;
(3)Enhance Cellular Health;
(4)Inhibits pre-cancer function and growth of cancer tumors;
(5)Strengthen Immune System;
(6)Increases body energy;
(7)Acts as anti inflammatory and anti histaminic agent;
(8)Alleviates Pain;
(9)Has antibacterial properties that can protect against digestive and heart damage;
(10)Promote General Health;
(11). Increasing the phagocytic index of macrophage and stimulating antibody formation, thus to enhance body's immune function;
(12)Anti-tumor activity, owning the strong inhibitory effect on cancer cell;
(13)Anti-fatigue effect, enable glycogen content has a significant increase and increase the body's exercise capacity.
(1)Applied in food field, noni juice is highly welcome, children and oldie aslo may drinking;
(2) Applied in health product field, aslo can be made into capsule to adjust physiological
function;
(3) Applied in cosmetic field, aslo used to moisturizing and skin whitening.
Analysis
Specification
Results
Assay
100% Fruit Powder
Complies
Physical & Chemical Control
Identification
Positive
Complies
Appearance
Yellow powder
Complies
Odor
Characteristic
Complies
Mesh Size
80 mesh
Complies
Loss On Drying
≤5.0%
2.27%
Methanol
≤5.0%
0.024%
Ethanol
≤5.0%
0.150%
Residue on Ignition
≤3.0%
1.05%
Heavy Metal Testing
Heavy Metals
<20ppm
Complies
As
<2ppm
Complies
LEAD(Pb)
< 0.5PPM
0.22 ppm
MERCURY(Hg)
Not dectect
Complies
CADMIUM
< 1 PPM
0.25 ppm
COPPER
< 1 PPM
0.32 ppm
ARSENIC
< 1 PPM
0.11 ppm
Microbiological
Total Plate Count
<1000/gMax
Complies
Staphylococcus Aurenus
Not Detected
Negative
Pseudomonas
Not Detected
Negative
Yeast & Mold
<100/gMax
Complies
Salmonella
Negative
Negative
E. Coli
Negative
Negative
Delivery:Sea/Air Shipping & International Express
Shipping Time: 2-3 working days after payment
Package: 1-5kg/Aluminum foil bag, size: 22cm (Width)*32cm (Length)
15-25kg/Drum, size: 38cm (Diameter)*50cm (Height)
Storage: Kept away from strong light and heat.
Shelf Life: 24 months