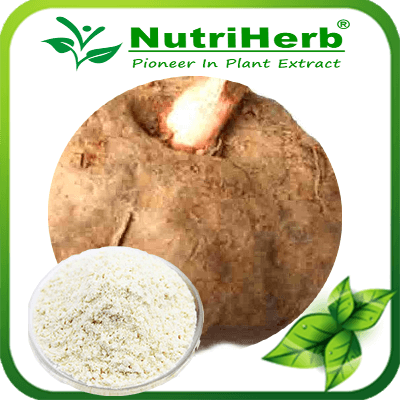 Konjaku Powder
Konjac glucomannan is extracted from Konjac with white in  physical appearance with no odor. It has high viscosity and transparency,  and can be quickly dissolved.
Features
Specification:   Fruit Powder
Appearance:  White powder
Mesh size: 80 Mesh
Prodcut name:   Konjaku Powder
Specification:   Fruit Powder
Appearance:  White powder
Mesh size: 80 Mesh
1.It could reduce postprandial glycemia, blood cholesterol and blood pressure.
2.It could control appetite and reduce body weight.
3.It could increase insulin sensitivity.
4.It could control insulin resistant syndrome and diabetesII development.
5.It could reduce heart disease.
1. Food industry: It could be made out to gelling food, used as the food thickening    agent and adherence agent such as the jelly ,ice cream, gruel, meat,
flour food, solid drink, jam, etc.
2. Health care industry : It does good at modulating lipid metabolism , declining serum triglyceride and cholesterol, improving sugar resistance, preventing
diabetes, relieving constipation, preventing intestines cancer, producing no energy, preventing fatness ,modulating immunity function.
3. Chemical industry: It could be applied to the chemical industry such as petroleum, dye printing cataplasm, terra film, diaper, medicine capsule, etc due to it's
high viscidity, good fluidity and big molecular weight of 200,000 up to 2,000,000.
Analysis
Specification
Results
Assay
100% Fruit Powder
Complies
Physical & Chemical Control
Identification
Positive
Complies
Appearance
White powder
Complies
Odor
Characteristic
Complies
Mesh Size
80 mesh
Complies
Loss On Drying
≤5.0%
2.27%
Methanol
≤5.0%
0.024%
Ethanol
≤5.0%
0.150%
Residue on Ignition
≤3.0%
1.05%
Heavy Metal Testing
Heavy Metals
<20ppm
Complies
As
<2ppm
Complies
LEAD(Pb)
< 0.5PPM
0.22 ppm
MERCURY(Hg)
Not dectect
Complies
CADMIUM
< 1 PPM
0.25 ppm
COPPER
< 1 PPM
0.32 ppm
ARSENIC
< 1 PPM
0.11 ppm
Microbiological
Total Plate Count
<1000/gMax
Complies
Staphylococcus Aurenus
Not Detected
Negative
Pseudomonas
Not Detected
Negative
Yeast & Mold
<100/gMax
Complies
Salmonella
Negative
Negative
E. Coli
Negative
Negative
Delivery:Sea/Air Shipping & International Express
Shipping Time: 2-3 working days after payment
Package: 1-5kg/Aluminum foil bag, size: 22cm (Width)*32cm (Length)
15-25kg/Drum, size: 38cm (Diameter)*50cm (Height)
Storage: Kept away from strong light and heat.
Shelf Life: 24 months