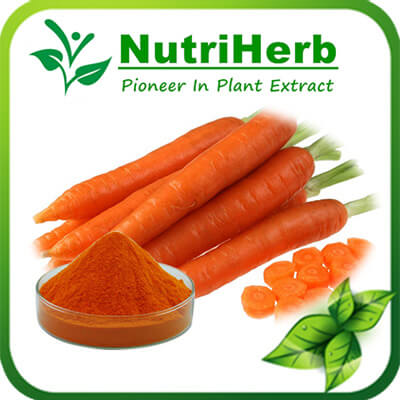 Carrot Powder
Carrot Powder is made of the primary raw material, high-quality carrot, and by the spray drying process including selection, trash extraction, rinsing, grinding, boiling, preparation, dispersing, sterilization and dryness. And it can be used in health-care foods, beverage and baked foods,ect.
Features
Material:             A-grade Carrot
Color:                Natural Orange
Size:                 80-120mesh
Plant part used:   Whole Plant
Product Name:    Dehydrated Carrot powder
Material:             A-grade Carrot
Color:                Natural Orange
Size:                 80-120mesh
Plant part used:   Whole Plant
Flavor:           Typical Cooked Carrot Flavor,has flavor of fresh  carrot, with rich  sweet smell,and remained long.
1 liver eyesight, detoxification, Touzhen, lower gas cough.
2 for children with malnutrition, measles, night blindness, constipation, hypertension, gastro-intestinal discomfort, swelling and other full stuffiness.
3 improve blood circulation ischemic myocardium, scavenging oxygen free radicals.
4 Liver eyesight Lee diaphragm wide intestine and spleen in addition to rickets enhance im-mune function blood glucose and lipids can be used for stomach upset, constipation, night blindness (the role of vitamin A), measles, whooping cough, and other sy-mptoms of malnutrition in children.
5 It is more suitable for hypertension, night blindness, dry eye patients, malnutrition, loss of appetite, rough skin.
1. Help to keep the lubrication and transparency of cornea, promote the health of the eyes.
2. It is one of the most effective antioxidants against free radicals.
3. Strengthen the immune system, strengthen the resistance.
4. Preventing cancer, reduce oral cancer, breast cancer, cervical cancer, lung cancer risk.
5. Cataracts, help protect eyes crystal fiber section.
6. Prevention of cardiovascular disease.
7. Converted into vitamin A to help keep skin and mucous membrane of the organs within thecavity system normalization.
| | |
| --- | --- |
| Product name | Carrot Powder |
| Botanical source | Carrot |
| Plant part used | Stem |
| Appearance | Orange to Dark red fine powder |
| Sieve Analysis | 80 mesh |
| Odor | Characteristic |
| Taste | Characteristic |
| Loss on drying | NMT10.0% |
| Sulphated Ash | NMT10.0% |
| Heavy Metals | NMT 10ppm |
| Residual Solvents | Eur.Pharm. |
| Total Plate Count | NMT 10,000cfu/g |
| Yeast & Moulds | NMT 1000cfu/g |
| E.Coli. | Negative |
| Salmonella | Negative |
| Enterobacteria | Negative |
| Staphylococcus aureus | Negative |
Delivery:Sea/Air Shipping & International Express
Shipping Time: 2-3 working days after payment
Package: 1-5kg/Aluminum foil bag, size: 22cm (Width)*32cm (Length)
15-25kg/Drum, size: 38cm (Diameter)*50cm (Height)
Storage: Kept away from strong light and heat.
Shelf Life: 24 months