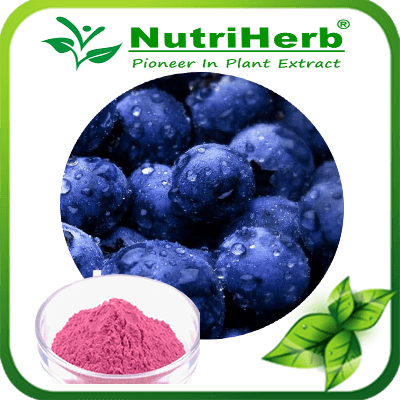 Blueberry Powder
Blackberry Powder is mainly made from fresh blackberry fruit. Blackberry is native to the old and new continents and eastern North America and the Pacific coast. Blackberry Powder is rich in iron and vitamin.
Features
Latin name : Vaccinium spp
Plant Source: The fruit of blueberry.
Appearance: Pink red powder
Product Name:  Blueberry powder
Latin name : Vaccinium spp
Plant Source: The fruit of blueberry.
Appearance: Pink red powder
Pterostilbene is a stilbenoid chemically related to resveratrol and is found in blueberries and grapes. It belongs to the group of phytoalexins, agents produced by plants to fight infections. Based on animal studies it is thought to exhibit anti-cancer, anti-hypercholesterolemia, anti-hypertriglyceridemia properties, as well as the ability to fight off and reverse cognitive decline.
Blueberries are flowering plants of the genus Vaccinium with dark-blue berries. They are picked up from wild bushes which are free of pollution. Blueberry are rich in anthocyanosides,proanthocyanidins, resveratrol, flavons and tannins inhibit mechanisms of cancer cell development and inflammation.
1. Protect and regenerate retinal purple (rhodopsin), and cure patients with eye diseases such as pigmentosa, retinitis, glaucoma, and myopia, etc.
2. Prevent the cardiovascular diseases;
3. Quench free radical, antioxidant, and anti-aging
4. A treatment for mild inflammation of the mucous membranes of mouth and throat
5. A treatment for diarrhea, enteritis, urethritis, cystitis and virosis rheum epidemic, with its antiphlogistic and bactericidal action
1.Protect eyesight and prevent blindness, glaucoma, improve myopia.
2. Scavenge free radical activity, prevent atherosclerosis.
3. Soften blood vessels, enhance immune function.
4. Prevent brain from aging; anti-cancer
Analysis
Specification
Results
Assay
100% Fruit Powder
Complies
Physical & Chemical Control
Identification
Positive
Complies
Appearance
Purple red fine powder
Complies
Odor
Characteristic
Complies
Mesh Size
80 mesh
Complies
Loss On Drying
≤5.0%
2.27%
Methanol
≤5.0%
0.024%
Ethanol
≤5.0%
0.150%
Residue on Ignition
≤3.0%
1.05%
Heavy Metal Testing
Heavy Metals
<20ppm
Complies
As
<2ppm
Complies
LEAD(Pb)
< 0.5PPM
0.22 ppm
MERCURY(Hg)
Not dectect
Complies
CADMIUM
< 1 PPM
0.25 ppm
COPPER
< 1 PPM
0.32 ppm
ARSENIC
< 1 PPM
0.11 ppm
Microbiological
Total Plate Count
<1000/gMax
Complies
Staphylococcus Aurenus
Not Detected
Negative
Pseudomonas
Not Detected
Negative
Yeast & Mold
<100/gMax
Complies
Salmonella
Negative
Negative
E. Coli
Negative
Negative
Delivery:Sea/Air Shipping & International Express
Shipping Time: 2-3 working days after payment
Package: 1-5kg/Aluminum foil bag, size: 22cm (Width)*32cm (Length)
15-25kg/Drum, size: 38cm (Diameter)*50cm (Height)
Storage: Kept away from strong light and heat.
Shelf Life: 24 months