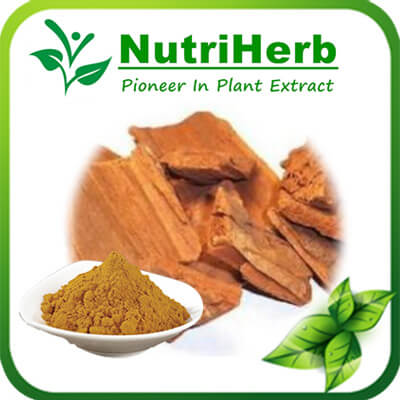 Yohimbine HCL
Yohimbine hydrochloride is indicated as a sympathicolytic and mydriatic. It may have activity as an aphrodisiac.Research shows it is a vasodilator, which means that it increases blood flow to the extremities and appendages.
Features
Specification:98% Yohimbine hydrochloride
Color:White powder
Form: Powder
Odor: Characteristic
Grade: pharmaceutical&food grade
Product name :  Yohimbine hydrochloride (Yohimbine HCL)
Specification:98%
Color:White powder
Form: Powder
Odor: Characteristic
Grade: pharmaceutical&food grade
1).To accelerate body energy metabolism and to increase energy supply.
2).Yohimbe bark extract is mostly used to treat impotence for men and women.
3).To help sexual performance and increase libido.
Yohimbine readily penetrates the (CNS) and produces a complex pattern of responses in lower doses than those required to produce peripheral alpha-adrenergic blockade. These include, anti-diuresis, a general picture of central excitation including elevation of blood pressure and heart rate, increased motor activity, nervousness, irritability and tremor. Sweating, nausea and vomiting are common after parenteral administration of the drug. Also, dizziness, headache skin flushing reported when used orally ption and avoiding possible stomach ache.
5.Colon Cancer Prevention. A study at the University of Minnesota found that ginger may slow the growth of colorectal cancer cells.
6.Reduce Pain and Inflammation. Ginger contains some of the most potent anti-inflammatory fighting substances known and is a natural powerful painkiller.
The dose of  yohimbine hcl 98% Extract will be different for different patients. Follow your doctor's orders or the directions on the label. The following information includes only the average doses of this medicine. If your dose is different, do not change it unless your doctor tells you to do so.
The amount of medicine that you take depends on the strength of the medicine. Also, the number of doses you take each day, the time allowed between doses, and the length of time you take the medicine depend on the medical problem for which you are using the medicine.
| | |
| --- | --- |
| Botanical Source: | Yohimbine hydrochloride |
| Part used: | Bark |
| Specification: | Yohimbine hcl 98% |
| Description: |  Pure Herb Tea Organic Yohimbe Bark |
|  Appearance | Brown powder or white |
|  Flavor & Odor | Characteristic |
|  Particle size | 100% pass 80 mesh |
| Physical: | |
|  Loss on Drying | ≤5.0% |
|  Bulk density | 40-60g/100ml |
|  Sulphated Ash | ≤5.0% |
| General Status | Non-irradiated |
| Chemical: | |
|  Pb | ≤3mg/kg |
|  As | ≤1mg/kg |
|  Hg | ≤0.1mg/kg |
|  Cd | ≤1mg/kg |
| Microbial: | |
|  Total microbacterial count | ≤1000cfu/g |
|  Yeast & Mold | ≤100cfu/g |
|  E.Coli | Negative |
Delivery:Sea/Air Shipping & International Express
Shipping Time: 2-3 working days after payment
Package: 1-5kg/Aluminum foil bag, size: 22cm (Width)*32cm (Length)
15-25kg/Drum, size: 38cm (Diameter)*50cm (Height)
Storage: Kept away from strong light and heat.
Shelf Life: 24 months