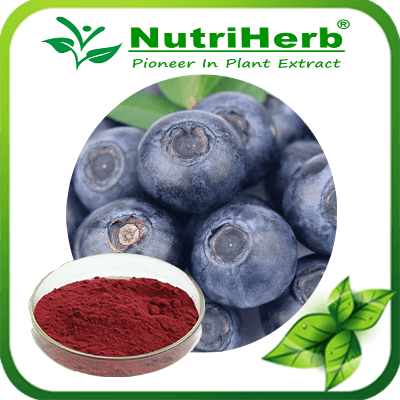 Blueberry Pigment
Bilberries are recognized as a good source of flavonoids, some of which have antioxidant activity. As a deep purple fruit, bilberries contain anthocyanin pigment
Features
Botanical Name:Blueberry
Part Used: Berry
Product Name:Blueberry pigment
Botanical Name:Blueberry
Part Used: Berry
1.Anti-oxident
2. Enhance the immune system ability.
3. Reduce heart disease and stroke occurred
4. Help to prevent various free radicals related diseases
5. Reduce the number of cold and shorten the duration
6. Enhance flexibility of arteries and veins and blood capillary
7. Relaxation vascular so as to promote the blood flow and the high blood pressure
8. Resistance to the effect of radiation
9. Promote the retinal cells regeneration, depending on the purple quality, improve eyesight to prevent myopia
1.As pharmaceutical raw materials for clearing heat, anti-inflammation, detumescence and so on, it is mainly used in pharmaceutical field;
2. As products effective ingredients for improving blood circulation and soothing the nerves, it is mainly used in health product industry;
3. As active ingredients of Skin Care Products, it is mainly used in cosmetic industry.
4. Nowdays, Blue berry Extract is widely added in Coffee or made acai berry capsule for lose weight and keep slim.
 Item
Specification(%)
 Result(%)
Description
Fine powder
Conforms
Color
Blue powder
Complies
Mesh size
100% pass 80 mesh
Conforms
Total  Heavy Metal
≤10.00mg/Kg
Conforms
Pb
≤1.00 mg/Kg
Conforms
As
≤1.00 mg/Kg
Conforms
 Total Bacteria
≤1000cfu/g
Conforms
 Yeast Mold
≤100cfu/g
Conforms
Salmonella
Negative
Negative
 E.Coli
 Negative
Negative
B1(Aflatoxin)
≤5.00ug/Kg
Conforms
 Solvent residences
≤0.005%
Conforms
Persticide

residences

BHC
≤0.10mg/Kg
Conforms
DDT
≤0.10 mg/Kg
Conforms
PCNB
≤0.10 mg/Kg
Conforms
Aldrin
≤0.02 mg/Kg
Conforms
Delivery:Sea/Air Shipping & International Express
Shipping Time: 2-3 working days after payment
Package: 1-5kg/Aluminum foil bag, size: 22cm (Width)*32cm (Length)
15-25kg/Drum, size: 38cm (Diameter)*50cm (Height)
Storage: Kept away from strong light and heat.
Shelf Life: 24 months